I know I keep harping on Spring, but I think it may be my most favorite season of them all! When I saw that my friend
Mateya
was hosting a Spring link party with some other fabulous ladies this week, I just had to join in the fun! Today I give you our Spring bucket list! These are only a few of the things topping our to-do list in the months to come.
Planting flowers and cleaning the house top to bottom are always Spring projects for me, but we'll definitely be mixing in lots of fun with the baby girl, too! If you've been around this blog lately, you know that Jaqs is practically a professional
park-player
by now, so swinging will continue to be a favorite activity around here. Of course, we have her BIG
FIRST BIRTHDAY
to celebrate very soon, and I'm so excited about that!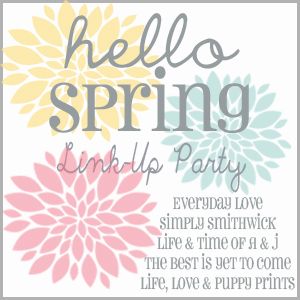 Click to visit any of these blogs and join in on the fun! :)